Jim Gerrish received his Master of Divinity degree from Southern Seminary in Louisville, Kentucky (US), and served as pastor of several churches before the Lord called him to Israel. After this call, he and his wife Betsy lived in Israel as Christian workers. For most of their sixteen-year stay in Israel, Jim was associated with the evangelical Christian ministry, Bridges For Peace.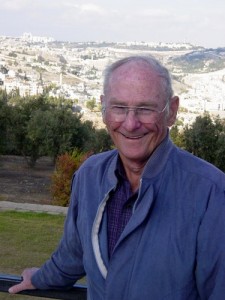 In the land, Jim gained a wealth of information and experience. For many years he directed Christian programs for Bridges, welcoming and caring for new immigrants arriving in Israel. For several years of his stay, he and his wife also founded and directed the Galilee Study Center at Migdal, near Tiberias.
Throughout his time in Israel Jim did a great deal of editorial work with Bridges For Peace, while at the same time originating numerous Bible teaching articles. Many of his articles have been translated into various languages, republished in periodicals and distributed through the Internet. In addition he has produced three Israel E-books that are available free on this website. Several of his free books are full-length Bible studies (in commentary format) and are available on our companion site at wordofgodtoday.com.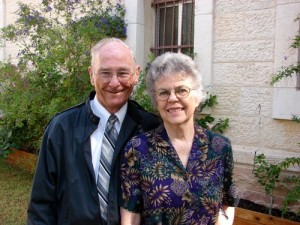 Jim & Betsy pictured at the Narkis Street Church in Jerusalem